14/01/13 13:52


Last night (January 13th - the Celtic New Year!) I was fortunate enough to spend an hour in the company of an old friend from the English Folk scene, Genevieve Tudor. Genevieve has a wonderful folk music programme on Radio Shropshire every Sunday night at 6pm, and we had a lovely chat about all things 'Welsh folky' and of course the new album, Cymun. Thanks Genevieve for the opportunity to talk about my music on a programme over the border so to speak - diolch!
It was so good to get out to be honest after a rather hermit like period over Christmas and New Year thanks to a particularly nasty bug which got the better of Llywelyn (our youngest son) and me! Whew! Not nice....!
Never mind, we're on the mend now!
I do hope that most of you had a bug-free holidays.
Also, below I've listed the various concerts and projects that I'll be part of during the next few weeks, just in case you're interested.
Take care x


February 12: Trac, are organising a project called '10 in a bus' during the second week in February. Ten musicians from varied musical background will be travelling the length and breadth of Wales, meeting up with various folk music practitioners, in order to enhance their knowledge of Welsh traditional music. On the 12th I'll be giving a bit of a talk and singing a few songs for the group.

February 15: Concert in the Welsh College of Music and Drama as part of the International Harp Festival which takes place from the 14-17 of February. Recital starts at 1pm in the foyer of the college.

February 16: Concert with Parti Cut Lloi at the Rugby Club in Dolgellau

March 3: Afternoon concert in the National Botanic Gardens, Carmarthen as part of the Celtic Women concert series. It'll be at 1 o'clock in the Great Glasshouse.

March 8: Saint David's concert for the Welsh Society in Abergavenny

April 24: Red Lion Folk Club with Vicki Swan and Jonny Dyer







18/12/12 17:14
At long last, an opportunity to give you an update on what I've been up to during the last few months. I can't promise I'll manage this every month but I'll certainly give it a go!
The last few months have been really busy......stupidly busy frankly! Recording and completing the new album Cymun; arranging the launch of the cd in Ty Golchi in Bangor; concerts to promote the album; concerts with my folk choir Parti Cut Lloi the length and breadth of Wales; and of course loads of lovely chats on the airwaves and S4C about the new album. Thanks to all involved.
The response to the album has been just wonderful, which is so inspiring - thanks everybody for the continued support. It warms my heart more than you'll ever know!
As regards the gigs - it's been a good old purple patch......is that the saying?
I had a very special gig in Ty Golchi (a month before the launch). The atmosphere was so warm and welcoming. Thanks to everyone who came to support. For me it was one of the most memorable gigs I've had in a very long time.
Then I had a smashing evening in the company of Merched y Wawr in Meifod where I chatted with the audience about my autobiography and sang a few songs. Good fun!
A smashing gig in Mold as part of the Daniel Owen festival - thanks to Eirian for organising.
Another gig in the company of Stephen Rees and Gwyn (my hubby and web designer extraordinaire!!) in the Railway Club in Bangor supporting Steve Eaves - a great honour.
And then it was down to Cardiff with Parti Cut Lloi to sing Plygain carols on the Lanfa stage in the Millenium Centre. A lovely Christmassy atmosphere, with those ancient carols reverberating throughout the building.
Then finally on the Sunday I did a set with Geraint Cynan on the same stage. It was very heartwarming to see friends and family in the audience - thank you one and all for your continued support.
I love you all!
Happy Christmas to you all and a New Year full of blessings. X
The launch at Ty Golchi..!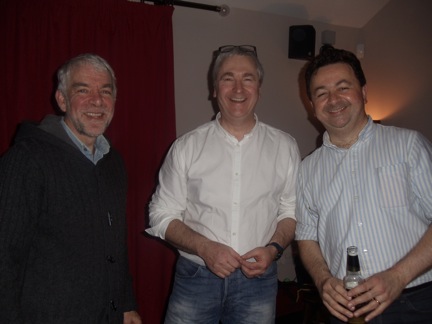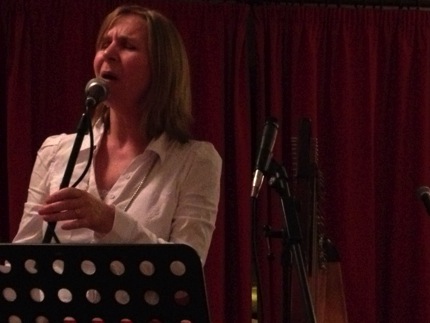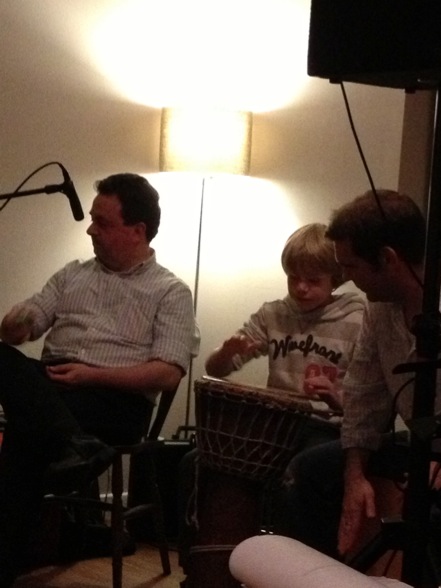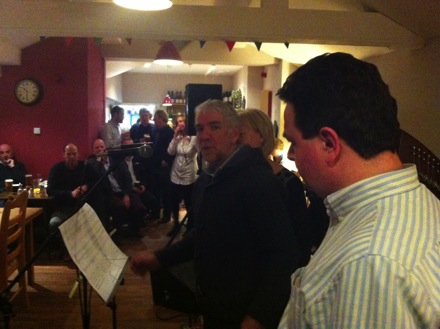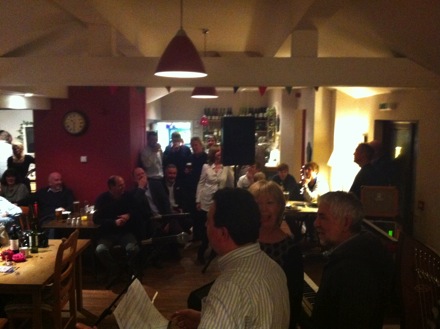 09/12/12 20:59
This is the webdesigner here..!
This site has been totally redesigned and is as I write - 24hrs old!
As Siân gets into a weekly swing of updating these news pages this should be a good place to keep up with any interesting news of Siân's work.
Thanks,
Gwyn.