Pur
2000 - BOS Records RBOS 001

The performances captured here are very powerful and are evidence of Siân's experience and understanding of traditional songs. Apart from track 4 and track 10, all the songs are traditional. They are songs that Siân is very familiar with and....
......
read more
Y Deryn Pur

Ei di'r Deryn Du

Ar Fore Dydd Nadolig

Mordaith i America

Dacw 'Nghariad

My Donald

Ym Mhontypridd

Yr Eneth Glaf

Cariad Cyntaf

Evening Prayer

Y Glomen

Hiraeth am Feirion

Yr Eneth Gadd ei Gwrthod

Llangollen Market

Cyfri'r Geifr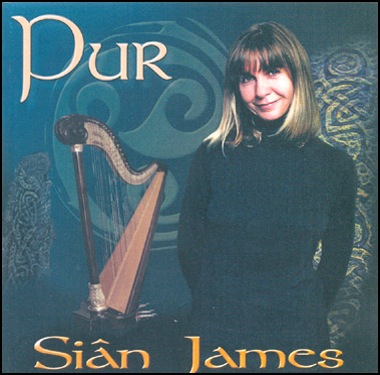 ...as is evident from the performances, songs that are close to her heart. The title for the album came quite early in the recording stage. The original idea was to create an album which was to be pure in the sense that there were to be no other instruments added to the original sound of harp and voice. And also pure in the fact that the songs are rendered in a thoroughly native Welsh style. This is the sound that Siân produces in her live solo performances. This is a very atmospheric album, with plenty of fuel for the imagination as old truths are carried perfectly to the listener on time tested melodies. As the sentence written on the back cover of the album reads, "The spellbinding harp and voice of Siân James perfectly define Celtic emotions in this collection of beautiful traditional songs".